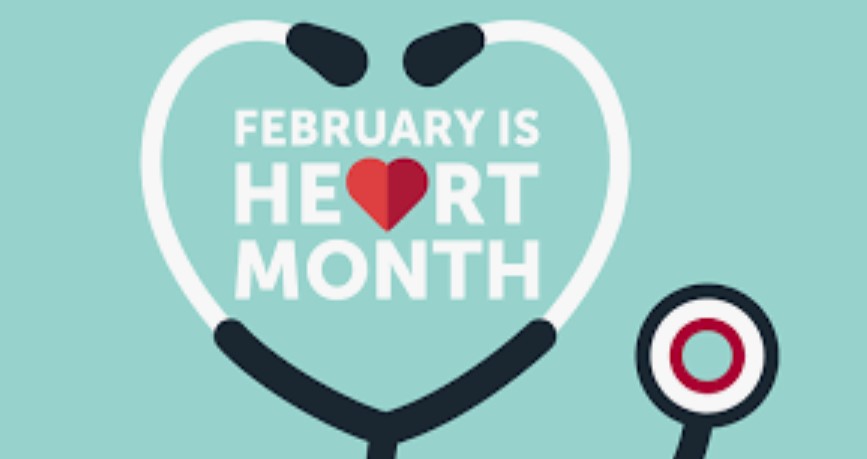 Since 1963, February has been celebrated as American Heart Month to urge Americans to join the battle against heart disease. Since 2004, February also has been the signature month for the American Heart Association's Go Red For Women campaign and the message that heart disease is not only a man's problem. February as the national heart health month, HOCC too has been dedicated annually to "matters of the heart"  to raise awareness for all women about heart disease as the leading cause of death for African American and white women in the United States – or about 1 in every 5 female deaths. As the nation's number one health risk we seek to empower everyone to take control of their heart health by living a healthy lifestyle, to help keep your blood pressure, cholesterol, and blood sugar levels normal and lower your risk for heart disease and heart attack. Lifestyle changes can help nip heart-harming trends, like high blood pressure or high cholesterol in the bud before they cause damage.
We Want You to Know:
What is heart disease?
Heart disease is the leading cause of death in the United States. More than 600,000 Americans die of heart disease each year. That's one in every four deaths in this country. The term "heart disease" refers to several types of heart conditions. The most common type is coronary artery disease, which can cause heart attack. Other kinds of heart disease may involve the valves in the heart, or the heart may not pump well and cause heart failure. Some people are born with heart disease.
Are you at risk?
Anyone, including children, can develop heart disease. It occurs when a substance called plaque builds up in your arteries. When this happens, your arteries can narrow over time, reducing blood flow to the heart.
Smoking, eating an unhealthy diet, and not getting enough exercise all increase your risk for having heart disease. Having high cholesterol, high blood pressure, or diabetes also can increase your risk for heart disease. Ask your doctor about preventing or treating these medical conditions.
What are the symptoms of a heart attack for women?
According to The Heart Foundation, while chest pain or discomfort is the most common symptom of a heart attack, it doesn't always develop, especially in women. Women may be more likely than men to experience other symptoms of heart attack, report researchers from the American College of Cardiology (ACC) and American Heart Association (AHA).
During a heart attack, it's also common for women to have pain or discomfort in one or more of the following:
jaw
neck
upper or lower back
shoulders
arm
stomach
Other common symptoms of heart attack in women include:
shortness of breath
nausea, vomiting
light headedness, dizziness, fainting
cold sweats
Heart attack may also cause:
fatigue
trouble sleeping
general weakness
unusually fast or slow heart rate
palpitations, or a fluttering or pounding heart rate
anxiety or fear
In general what are the signs and symptoms of a heart attack?  The symptoms vary depending on the type of heart disease. For many people, chest discomfort or a heart attack is the first sign.
Someone having a heart attack may experience several symptoms, including:
*Chest pain or discomfort that doesn't go away after a few minutes.
*Pain or discomfort in the jaw, neck, or back.
* Weakness, light-headedness, nausea (feeling sick to your stomach), or a cold sweat.
*Pain or discomfort in the arms or shoulder.
*Shortness of breath.
If you think that you or someone you know is having a heart attack, call 9-1-1 immediately.
Can it be prevented?
You can take several steps to reduce your risk for heart disease:
*Don't smoke. CDC's Office on Smoking and Health Web site has information on quitting smoking.
*Maintain a healthy weight. CDC's Healthy Weight Web site includes information and tools to help you
lose weight. http://www.cdc.gov/healthyweight/index.html
*Eat a healthy diet. Tips on reducing saturated fat in your diet are available on the Web site for CDC's Division for Nutrition, Physical Activity, and Obesity. http://www.cdc.gov/nutrition/everyone/
basics/fat/saturatedfat.html
*Exercise regularly. Visit CDC's Physical Activity Web site for more information on being active.
http://www.cdc.gov/physicalactivity/index.html
For More Information on Heart Health:
Learn more at the following Web sites.
* Centers for Disease Control and Prevention's Division for Heart Disease and Stroke Prevention: http://www.cdc.gov/dhdsp/index.htm
*Centers for Disease Control and Prevention's National Center on Birth Defects & Developmental Disabilities: http://www.cdc.gov/ncbddd/birthdefects/default.htm
*American Heart Association:  http://www.americanheart.org
*National Heart, Lung, and Blood Institute: http://www.nhlbi.nih.gov