Making a Difference Together

Thank you for your passion and dedication!
Making a difference together: In-kind Donations
HOCC is all about bringing women together to help other women. Our organization stands today because of the amount of in-kind donations we receive annually. We are open to any and all ideas, support, supplies, and skills to keep HOCC afloat and sailing into the future for women's health and wellness. We welcome women who would share not only their knowledge related to health issues, but who would bring expertise in finances, legal support, housing challenges, physical fitness, grant writing and/or other skill sets that help make HOCC more viable for the women and the organization as a whole. Other ways to support HOCC include helping us seek additional monies such as matching gift donations from your employer, joining Amazon.Smile and identifying HOCC as your charitable organization when making purchases online, or even sponsoring a house party to raise funds for HOCC—we will help take care of logistics if you invite your friends, family, or colleagues. Contact Heidi Bright directly with any questions or ideas at 617-285-7755 / [email protected]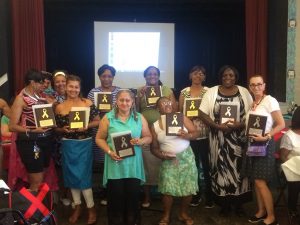 Thank you for your interest in volunteer opportunities!
Making a difference together: Volunteer!
We are all volunteers at HOCC: from our executive director, board members, educational teams, and speakers to the HOCC women who make our programming so welcoming by coming early to events, setting up and closing down our space, and doing all that makes each program run so smoothly! HOCC luncheons are like getting ready for Thanksgiving Day every month, but with none of the hassle and all of the love and gratitude which fuels our program. Our volunteers create a warm and welcoming safe space for each woman who walks across our threshold. We invite you to join us! Contact Heidi Bright directly with any questions or ideas at 617-285-7755 / [email protected]