Learning experiences designed to support your journey. 
Join us on every second Monday of each month:
HOCC's monthly health and wellness luncheon program provides support and education for all women living with, affected by, and at risk for HIV and to address the growing health care needs of HIV+ women.  For many women, especially those who feel silenced and isolated from their communities because of the stigma of HIV, HOCC is the only place they feel safe, have a strong voice, and are naturally connected to other women. The social learning context of sharing a meal together provides a non-threatening environment for providing HOCC's culturally relevant and gender-sensitive series of educational programs covering a broad range of illness prevention and health-promotion topics e.g., HIV/AIDS, breast cancer, heart disease, depression, diabetes; provider/patient rel
ationships and communication; health care disparities; self-care and wellness.  HOCC programs are led by volunteer advanced practice nurses and peer leaders from our community of women. 
Join us for a hot nutritional meal – we meet every month on the second Monday of every month from 12 pm to 2 pm. Check out our monthly schedule here.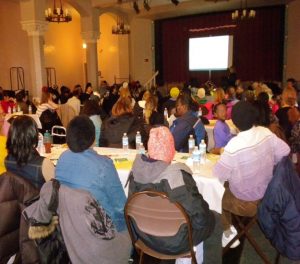 "HOCC is a place women can come together and feel comfortable in a safe environment in sharing their honest feelings. It is where I can be true to myself and to others."
HOCC participant for 12 years/April, 2020