Changing the world is possible. We are doing it.
"HOCC means love and literally saving my life five years ago – now the monthly health education program helps me with me living today"
–HOCC  participant for 18  Years/March, 2020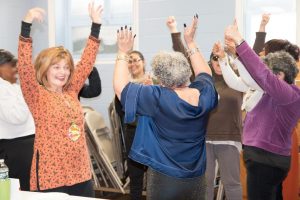 Monthly Health and Wellness Luncheon:
We believe that knowledge and wisdom is a powerful tool towards health and wellness. We also understand that providing a safe, nurturing, and welcoming path is essential for true learning to transpire. Learn more about our monthly programs and how we hope to change the world, one woman at a time.
Mini Clinics:
We believe in the power of small group support to enhance knowledge, share wisdom, harness strength, and empower your path towards health and wellness together. Learn more about our health and wellness themes.
Train the Trainer Professional Development:
We believe what makes a training course successful starts with passionate and motivated learners coupled with inspiring knowledgeable educators who are committed to the process of learning together and from each other. Learn more about our advanced train the trainer program.
Wellness Retreat: