Creating hope—making a difference together, with your help.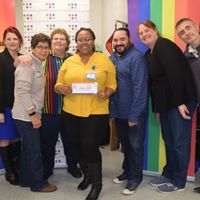 HOCC receives a Boston Pride Community Grant 2019
"
Keeping it Real: our supporters are amazing and have kept our doors open for the women of HOCC through our most challenging times."
Creating Hope and Making a Difference:
We depend on the generosity of like-minded people such as yourself to donate and support our mission. Every dollar donated goes directly to programming, services and materials for the women we serve. We provide health education and wellness programming for an average of 80-100 women each month who attend our educational luncheon, and 20 more women who attend our monthly health and wellness breakfast mini-clinics. Your donation will provide nutritious meals, gift cards for essentials the women could not otherwise afford, rental space for all of our programs, educational materials that support the women's learning process and help bring prevention and treatment messages into communities of women not yet aware of their risk for HIV.
In the coming year, we will continue holding our innovative health and wellness programming, reaching out to the communities of women most affected by HIV/AIDS, and building a stronger independent infrastructure to ensure our continued success at meeting the needs of those women most affected in Massachusetts. We truly hope you will join us in our quest to make a difference in the lives of women living with, affected by, and remaining at risk for HIV by making a charitable contribution today—and hopefully in the future as well.
Below is a list of how your contribution can support our work and women's lives today.
$10 to provide a hot, nutritious meal for one woman and child.
$25 to provide five women with health educational materials.
$50 to support a safe space for our monthly gathering.
$100 to sponsor one woman for advanced peer training.
$250 to provide a hot, nutritious meal for forty women, or provide an emergency $10 grocery-store food card for twenty-five women.
You can make your contribution online, or contact Heidi Bright directly with any questions or ideas at 617-285-7755 / hoccprogram@aol.com.