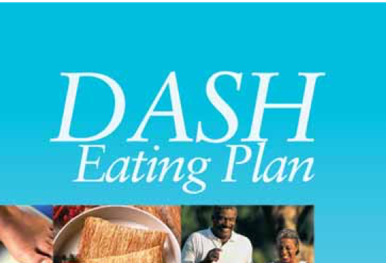 A simple recipe from the Dietary Approaches to Stop Hypertension(DASH) eating plan.  The DASH plan is a new way of eating—for a lifetime.  It features plenty of fruits, vegetables, whole grains, and other foods that are heart healthy and low in salt/sodium. The DASH eating plan follows heart healthy guidelines to limit saturated fat and cholesterol. It focuses on increasing intake of foods rich in nutrients that are expected to lower blood pressure, mainly minerals (like potassium, calcium, and magnesium), protein, and fiber. It includes nutrient-rich foods so that it meets other nutrient requirements as recommended by the Institute of Medicine.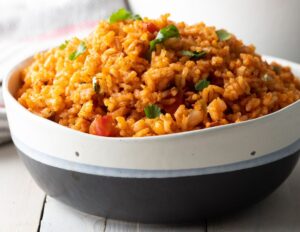 Chicken and Spanish Rice
Ingredients:
1 cup onions, chopped
3/4 cup green peppers
2 tsp vegetable oil
1 8 oz can tomato sauce*
1 tsp parsley, chopped
1/2 tsp black pepper
11/4 tsp garlic, minced
5 cups cooked brown rice (cooked in unsalted water)
3 1/2 cups chicken breasts, cooked, skin and bone removed, and diced
Steps:
In a large skillet, sauté onions and green peppers in oil for 5 minutes on medium heat.
Add tomato sauce and spices. Heat through
Add cooked rice and chicken. Heat through.
Yields: Makes 5 servings
Serving Size: 1 and 1/2 cup
Per Serving: Calories 428 g, Total Fat 8 g, Saturated Fat 2 g, Cholesterol 80 mg, Sodium 341 mg, Protein 35 g, 428 8 g 2 g 80 mg 341 mg 35 g Carbohydrate 52 g, Calcium 50 mg, Magnesium 122 mg, Potassium 545 mg, Fiber 8 g.
* To reduce sodium, use one 4-oz can of low-sodium tomato sauce and one 4-oz can of regular tomato sauce. New sodium content for each serving is 215 m